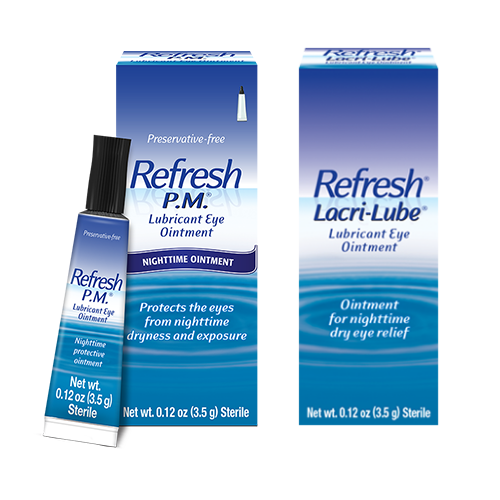 Quick Facts (updated 7/22/2019)
Refresh PM and Refresh Lacri-Lube are BACK IN PRODUCTION
Starting to appear in Walgreens, Publix and other stores
Refresh PM is currently IN STOCK at dryeyeshop.com (we expect LacriLube within another week or so)
Availability of ointments in general still relatively limited.
RECALL ALERT: Walmart Equate, CVS, Walgreens, and certain other lubricating ointments were recently recalled, along with a large number of eyedrops, gels and ointments. Details of 100+ ophthalmic product recalls 
Refresh PM Details
Current status: Back in production. Available in many stores.
Background: Refresh PM went on backorder at the manufacturer in 2017 due to issues which have forced them to change from metal to laminate tubes. There were long delays involved in re-launching the product in new packaging.
Ointments Reference List (alternatives)
If you are a manufacturer and have corrections to this list, please let us know. Last updated 7/22/19.
 Brand
Status
White Petrolatum
Mineral oil
Other ingredients
Refresh PM (Allergan)

In production, available in some stores

57.3%
42.5%
Lanolin alcohols
Refresh Lacri-Lube (Allergan)

In production, available in some stores

56.8%
42.5%
Chlorobutanol (preservative) and lanolin alcohols

Activeyes (Generic for Refresh PM)
57.3%
42.5%
Lanolin alcohols

Equate Restore PM (Walmart)
57.3%
42.5%
Lanolin alcohols

Walgreens Lubricant Eye Ointment

RECALL ALERT

57.3%
42.5%
Lanolin alcohols

CVS Health Nighttime Dry-Eye Relief Generic for Refresh PM.

57.3%

42.5%
Lanolin alcohols
CVS Health Overnight Ointment 

Generic for Systane PM.

94%
3%
Anhydrous liquid lanolin 3%

Retaine PM
(Ocusoft)

5g size Backorder - no ETA

80%
20%
-
Soothe Night Time Ointment

Available

80%
20%
-
Lubrifresh PM
RECALL ALERT
83%
15%
Lanolin alcohol

Genteal Ointment (Alcon)

Rolling backorders and shortages

93%

4%

Anhydrous liquid lanolin 

Systane Nighttime Ointment (Alcon)

Rolling

 backorders and shortages

94%

3%

Anhydrous liquid lanolin
Puralube

RECALL ALERT
85%
15%
What do I do when I can't get my favorite ointment?
Here are some tips for shopping and strategies:
Check the ingredients
How much petrolatum may matter: Lubricant eye ointments are pretty simple products. They are all mostly petrolatum and mineral oil (like vaseline). Most of them also contain lanolin alcohol and one of them contains a preservative.

But the main difference amongst the various lubricant eye ointments is the PROPORTION of petrolatum to mineral oil. 

Some people manage fine on any ointment, but some people find that too much petrolatum can be irritating.
Additional ingredients:

If you try to buy an ointment that is not on this list, please look out for preservatives or other irritants amongst the ingredients.

Lanolin: Most lubricant eye ointments on the US market contain lanolin alcohol EXCEPT Retaine PM and Soothe Nighttime. If you have to switch up ointments anyway, maybe it's a good time to try one without the lanolin alcohol.
DID YOU KNOW?
We have a handy ingredients reference page with active and inactive ingredients of all sorts of eye lubricants that you can use to research and compare drops, gels and ointments any time. Add it to your favorites - and consider letting your doctor know, too! 
Non-ointment alternatives
I know many people who cannot tolerate ointments. They use polymer gels instead. A polymer gel is made of the same stuff as many of the popular drops, but in a higher concentration and in a tube rather than a vial or bottle. Genteal Gel is far and away the most popular of these. What you must be aware of about gels is that they usually contain a "dissipating preservative", one of those preservatives that supposedly dissipates on contact. Talk with your doctor and use only what they approve, of course. I know a great many severe dry eye patients that have used Genteal Gel for years, and while it's not a personal favorite, I have a lot of respect for it because of the people I know who use it. Systane makes a lookalike, and no doubt there are generics available as well. ADDENDUM: There have been ongoing shortages of both Genteal and Systane gels for some months now too.
Then there's drops and gel-drops. For some people, the combination of a high quality drop with decent staying power (maybe one with an oil, or sodium hyaluronate) plus a mask, shield or goggle can perform just as well as an ointment if not better.
Maybe it's time to revisit the "big picture" of your overnight strategy
There are three different aspects of dry eye night care, in my opinion:
Preparation: Warm compress, for those who need them or are so inclined.
Lubrication: Drops, gel, or ointment. You find what works for  you.
Physical barrier protection: This is especially critical for those whose lids do not fully seal overnight, but anecdotally, it seems to help most people with severe overnight symptoms regardless of their lids. For examples, check out our Night Protection products collection.
My point here is that it is not just all about the goop. Set your eyes up for a really good overnight experience across the board. For some, though certainly not all, this will help reduce your dependence on the availability of any one lubricant product.
Want us to keep you up to date on Refresh PM or Lacri-Lube status?
We have a list of people to notify by email or phone when anything changes. It's always possible that something could change for the better and that Refresh PM could come back sooner than expected. We can only hope so, anyway! We can call or email you as soon as Refresh PM is back in stock. Please contact us (email/phone/text/chat) and we'll put you on the list. Don't worry - signing up for this will not subscribe you to our general mailing list or any other.