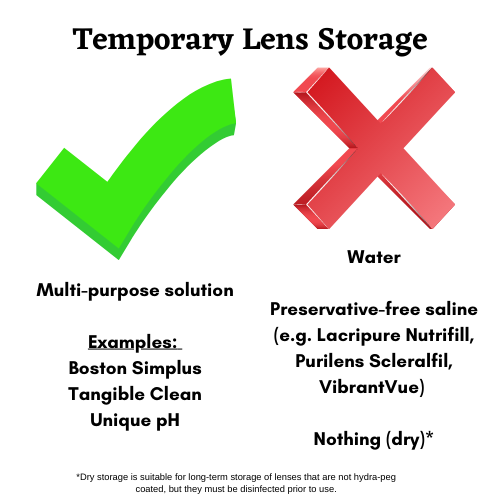 Daytime lens removal needs
Do you sometimes need to take your lenses out during the day for a little while, in order to:
apply a prescription eye drop
do a warm compress
clean the lenses (but decide not to put them back in immediately)
take a shower
go for a swim
The safe way
Place your lenses in a case filled with a MULTI-PURPOSE SOLUTION
The unsafe way
Due to acanthamoeba keratitis risk:
Never store your lenses in (or rinse them with) water
Never store your lenses in preservative-free saline (e.g. Scleralfil, Purilens, Nutrifill, VibrantVue, Lacripure, Addipak or any other sodium chloride 0.9% solution) or other filling solutions.
Dry storage is not suitable in between uses, only for long-term storage of non hydra-peg coated lenses; they need to be disinfected before next use.