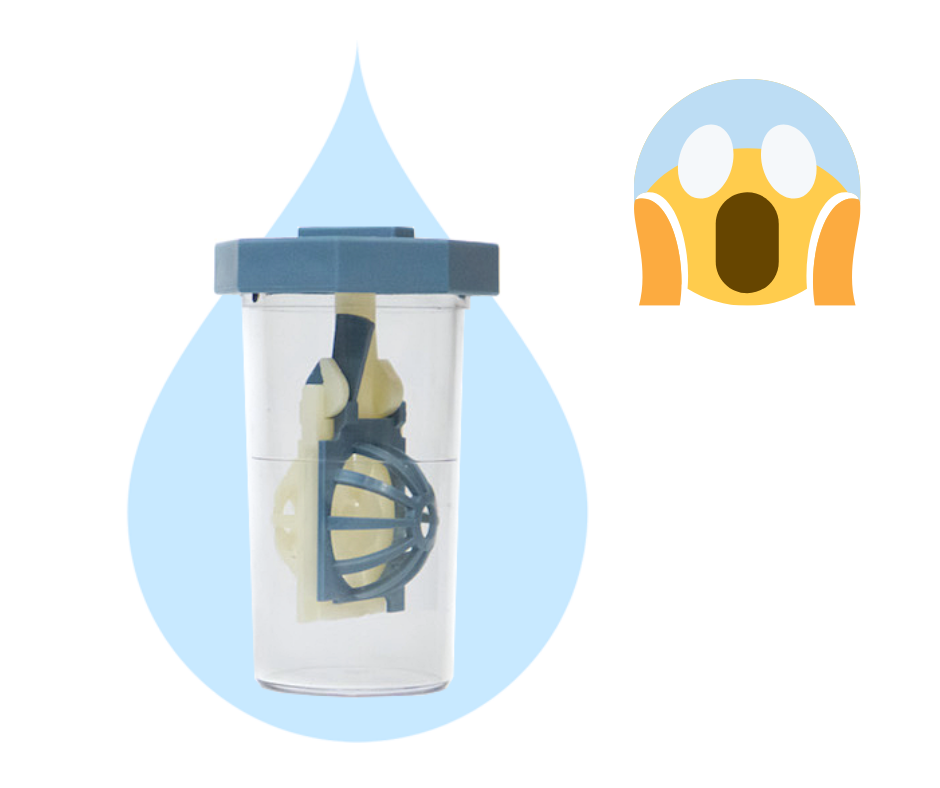 It all began...
Early in January, when we ran out of PROSE cases. 
What are PROSE cases? They're a giant basket-style contact lens case. They're expensive. They're not super durable. They are hogs for contact lens solution. They're designed for use with ClearCare hydrogen peroxide disinfection solution, in a sort of hack whereby we remove a part (platinum neutralizing disc) from the cases that are included with ClearCare, plop them in the bottom of this case and fill it with the solution. Their claim to fame? They are the only case on the market large enough to reliably, safely disinfect scleral lenses larger than 16mm. (For more information about that and a video demo, click here.)
Anyway:
We. Ran. Out.
It happens. But this time is different.
It happens sometimes that we run out of a product before we have more on the way. We usually sell these in onesie-twosies, but then sometimes doctors offices or universities come along and wipe out half or all of our supply. 
So we order more, right?
Sure. And we do. Only this time, we can't get a firm date commitment.
This, too, occasionally happens. These products do not come to us direct from the manufacturer, so occasionally when we order, they aren't immediately available. But it's rarely more than 2-3 weeks wait at the very outside.
In this case, some weeks later we learn the cases have not even been manufactured yet.
Really. Really?
Some time after that, we learn that there has been an equipment breakdown that needs to be repaired before more could be made.
Really? Really.
The emergency stock is depleted.
Little-known fact: We keep an emergency stock of just about any product that we know patients get particularly anxious about when they run out. Not a lot. But it's served us well on a number of occasions when it was 4pm and somebody desperately needed something right now, or somebody's about to leave the country and no one else can ship as fast.
PROSE case emergency stock ran out some time in January. We have a handful of cases with stems (the original type) that we've been carefully hoarding for one or two special patients, but we don't tell people about those and don't offer them to anyone unless it's an unusually compelling emergency.
Backorders mount.
100. 200. 300. And they keep climbing.
It probably doesn't help that these cases were talked about and pictures of them appeared in presentations at the GSLS conference in late January, which was attended by about 1,000 optometrists (oh, and yours truly).
It's excruciating.
When we don't have a firm arrival date for a product, we prefer not to accept orders... there are just so many things that can go wrong. But we're the only distributor for this product, and we need to allow people to "get in line" for it somehow.
So, we do what we always do in a backorder situation... email or call everybody, let them know what's going on, and from there on out, send a weekly (or so) update letting everybody know what's going on. We guiltily offer to cancel and refund orders, knowing full well that's no good, when they can't get it anywhere else.
In February, BostonSight helpfully shares with us an alternative cleaning protocol for patients to safely use hydrogen peroxide disinfection in a conventional contact lens case, in hopes that might help someone somewhere.
Then we get information in fits and spurts. The cases will be made next week. When will they ship? We don't know.
The first shipment on its way!
March 12: At long last... 216 cases are on their way to us.
Once we have the actual tracking numbers and have verified that the boxes are actually in Fedex's hands, we get to work. I send an email blast to everybody letting them know what's going on and what they'll hear next. We update our PROSE notification email list.
And we plan out Friday - the day the cases are to arrive. Friday is our short day, everybody goes home by noon - but not this Friday, because every case that comes in is going back out again.
The only trouble is, Fedex is notoriously unpredictable. They could come at 10am or 4pm. So on Thursday, we get on the phone with them and ask if they can hold them for pickup at their center in Bremerton. They can. Hurray!
Friday ends up being Josh's second day on the job! Josh is helping out in the stockroom to free up some of Brent's time for other work. Perfect timing. On Thursday, Josh pre-assembles... stacks upon stacks of PROSE-sized boxes.
Friday morning... Brent arrives victorious from Bremerton with two large boxes of PROSE cases! Go Brent! They get unpacked, inspected, bagged, labeled, packed and shipped out again individually in no time flat. Go team!
It's March 15, and we are caught up... to February 7. Sigh.
The second shipment is on its way!
A week later
We have tracking on another 324 cases. By now, ALL of them are pre-sold. Tracking indicates they were sent Fedex Saver, shipped Friday, due to arrive Wednesday. 
Monday, Susan checks the tracking and sees a funny thing. They actually arrived in Seattle on Saturday! Can I go get them, I wonder? But it's Monday and I can't leave the office. We decide to wait and see.
Tuesday, tracking shows they are out for delivery! Hurray! Josh starts pre-assembling boxes.
But Fedex does not arrive.
(shaking head) 
5:15 Tuesday evening. I check Fedex tracking, again. Now it says that our boxes were returned to the center and unloaded about 1:30pm. 
Really?
I get on the phone with Fedex. Summing up a long series of conversations and holds, I learn, or rather I am told, the driver thought she'd have time for us but ended up running out of time. The packages are in Bremerton. Customer service is helping me get them re-routed to Silverdale so that we can pick them up early Wednesday morning (Silverdale is much closer to us). Meantime, I get a text from Ally, who's house-hunting in Bremerton, asking if she can pick them up? I ask customer service if she can confirm the boxes are in Bremerton and how late they're open. Open till 6:00. It's now 5:45. Ally, are you less than 15 minutes away? Yes. Go! I ask customer service to cancel the re-routing. Go Ally!
Ally goes. And is told they aren't there. They're on a vehicle. They're in Silverdale. We don't know where they are. But now that you requested a re-routing, you cannot have them delivered Wednesday, you will have to pick them up. In Bremerton. Then I get a voicemail saying that they will be delivered to the Silverdale facility by morning. And Fedex confirms to Ally that they'll be in Silverdale by 7:30. Or between 7:30 and 10:00. Or by 10:00.
The last mile
9:30am, Wednesday morning, at Starbucks in Silverdale, around the corner from Fedex. 
The packages were not there. 
The tracker says they're out for delivery.
After half an hour of phone calling, with the help of a local Fedex staffer, we are able to confirm - not that I am the least bit inclined to believe what I'm told at this point - that the packages are being delivered to Silverdale and will probably be there between 10 and 10:30.
It is now 10:12, and I'm heading over to see.
If all goes well, I'll load them in my car, and by 3pm, 324 PROSE cases will be back out the door and on their way...
To destinations from California to Florida.
To patients with keratoconus or graft-v-host disease or Stevens Johnson Syndrome or Sjogrens or OCP or LCSD or RK or LASIK complications like me.
To universities and to private practice optometrists.
But no one will be more grateful than us that these cases are on their way at last.
10:50am update: Got 'em.
Who would imagine these humble boxes contain 324 specialty items worth $6,500, which within a day will be spreading out all over the country.
12:00 pm
Cases are getting counted, and bagged, and packed, and boxed...
3:30pm
Our postal pickup came much too early for these. So faithful Brent crams his car with bins full of packages to take to the loading dock at our local post office. A final few await our 4:00pm UPS pickup.
It's all over. Till next time, of course!