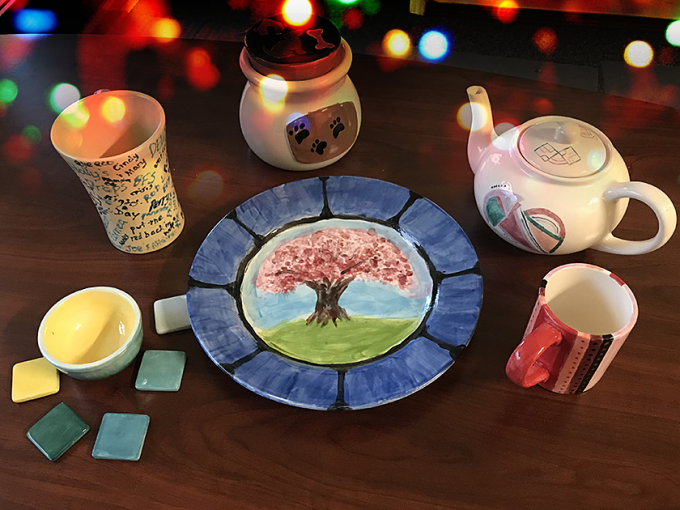 Maybe it's just me, but when I hear "company Christmas party", I imagine men in novelty ties, women in sparkly red dresses, too much to drink, and (worst case scenario) karaoke. But not at The Dry Eye Company! Since we're fairly new to having employees, this is the first time we've had our very own Christmas party, and it was utterly different than I expected — in a really good way.

We started with lunch at a local Italian restaurant, Sogno di Vino. It was a typical Northwest December day, chilly, blustery, and rainy, so the cozy, firelit atmosphere inside the restaurant was just perfect. And being near a window made it even better, looking out at Christmas lights and decorations festooning Poulsbo's historic main street.

The main attraction, however, was the food. We all had such difficulty choosing that we started by sharing several small plates of appetizers, just to buy ourselves some time, but eventually, we decided on our entrées; these ranged from pumpkin ravioli (mine) to classics like pesto and pasta alla Bolognese, and all were unanimously declared delicious. Nothing like warm Italian comfort food on a wet and windy day!



Between the food and atmosphere, we were enjoying ourselves too much to remember to take many pictures! At left: surprise gifts for Rebecca lurking under the table. (Photo/montage credit: Lindy Thibodaux)
While we waited for our coffee and dessert (one tiramisu which was shared between the five of us), we surprised Rebecca (our Fearless Leader) with early Christmas presents:



Left: Rebecca enjoys the prospect of a luxury manicure/pedicure. Right: She's about to discover a high-tech wine bottle opener, just the thing to go with the double-size bottle of Prosecco! (Photo credit: Lindy Thibodaux)
Thankfully (considering how much we ate), the second phase of our party was just a short walk away from the restaurant, at The Dancing Brush. Ally (our Customer Service person extraordinaire) suggested this not-so-typical Christmas party activity: paint-your-own-pottery! We had so much fun that everyone agreed we should make it an annual tradition. Take a look:


Our holiday celebration happened on December 1, which might seem a tad early for a Christmas party, but it turned out to be brilliant timing — we were able to pick up our finished pottery masterpieces in plenty of time for gift-wrapping!



Our lovely little pottery family after being finished in the kiln! Can you guess which one of us painted each piece? (Photo credit: Rebecca Petris)

Many, many thanks again to Ally for planning our party, and even more to Rebecca for hosting this incredibly fun afternoon!



(Photo/montage credit: Lindy Thibodaux)


What's your best Christmas party memory? Share in the Comments below! (And don't be shy — we especially love those Ugly Christmas Sweater parties!)