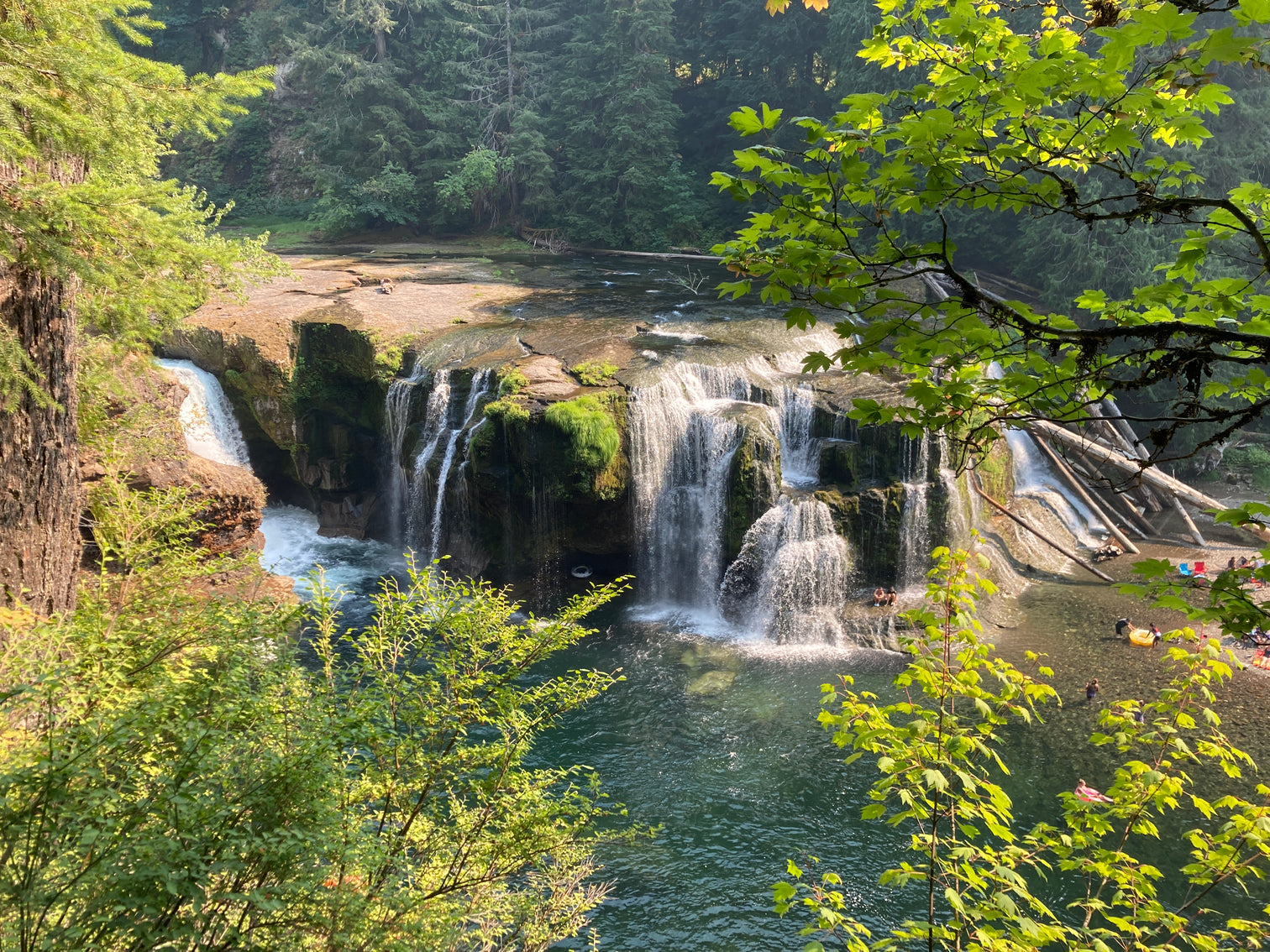 Three mountains and six waterfalls, to be exact. I'd been itching to check a couple hikes off the bucket list. 
I'll mostly let the pictures speak for themselves. We car camped off forest roads in the Gifford-Pichot National Forest for free and rose before sunrise to make the most out of our time! 
We arrived just before sunset on Friday night off NF-52 and slept in the car off the Nisqually River. The stars were amazing! 
Some campers in the morning. Sites to the left had an amazing unobstructed view of Mt. Rainier. 
We camped about 15 minutes outside the Nisqually entrance and reached the Paradise parking lot in an hour, with great views on the way up. Marymere Falls pictured above. 
Forest Fire smoke started rolling in, so we headed south and skipped our planned Naches Peak Loop hike. 
Quick stop at Silver Falls
Took the backroads to get to Takhlakh lake to eat lunch and swim a bit under Mt. Adams. The smoke was getting worse. 
We arrived at the Lewis River Recreation area about 3pm, where we planned to hike to all three falls. 
Aura went crazy in the shallow water under the lower falls! 
Next were the Upper Falls
Upper Falls had only a few people sitting on the shore! I forded the river and found some cool river rocks. 
We hit Middle Falls last, after most of the sun was gone from the valley. 
We made it to our next roadside campsite on NF-83 near the Lahar viewpoint as the sun was setting behind Mt. St. Helens. We drove about an hour from the river to get there. 
I'd hoped to see the sunrise over the mountain in the morning, but we couldn't even see it through the smoke when we woke up. The sun was red, then orange, as it rose opposite Mt. St. Helens. 
We walked along the quiet road to Lava Canyon falls. We should have been able to see the mountain above this mud slide canyon, but the smoke was too thick. 
We walked to the closed suspension bridge, which would have had a better view of some more falls, then saw a mountain goat on the way back. We actually saw a bear cub at Mt. Rainier too! 
We ended the trip with a visit to the Ape Cave. I hiked about a mile in and out of the lower part of the 2.5 cave, a lava tube which was formed 2000 years ago. 
I wasn't expecting to like the caves as much as I did! I actually emailed my high school science teacher to geek out afterwords. 
We decided we'd have to go back to the campsite near Mt. St. Helens another time, since it was so beautiful and private. The Lewis River was unbelievable as well. Mt. Rainier will never disappoint.