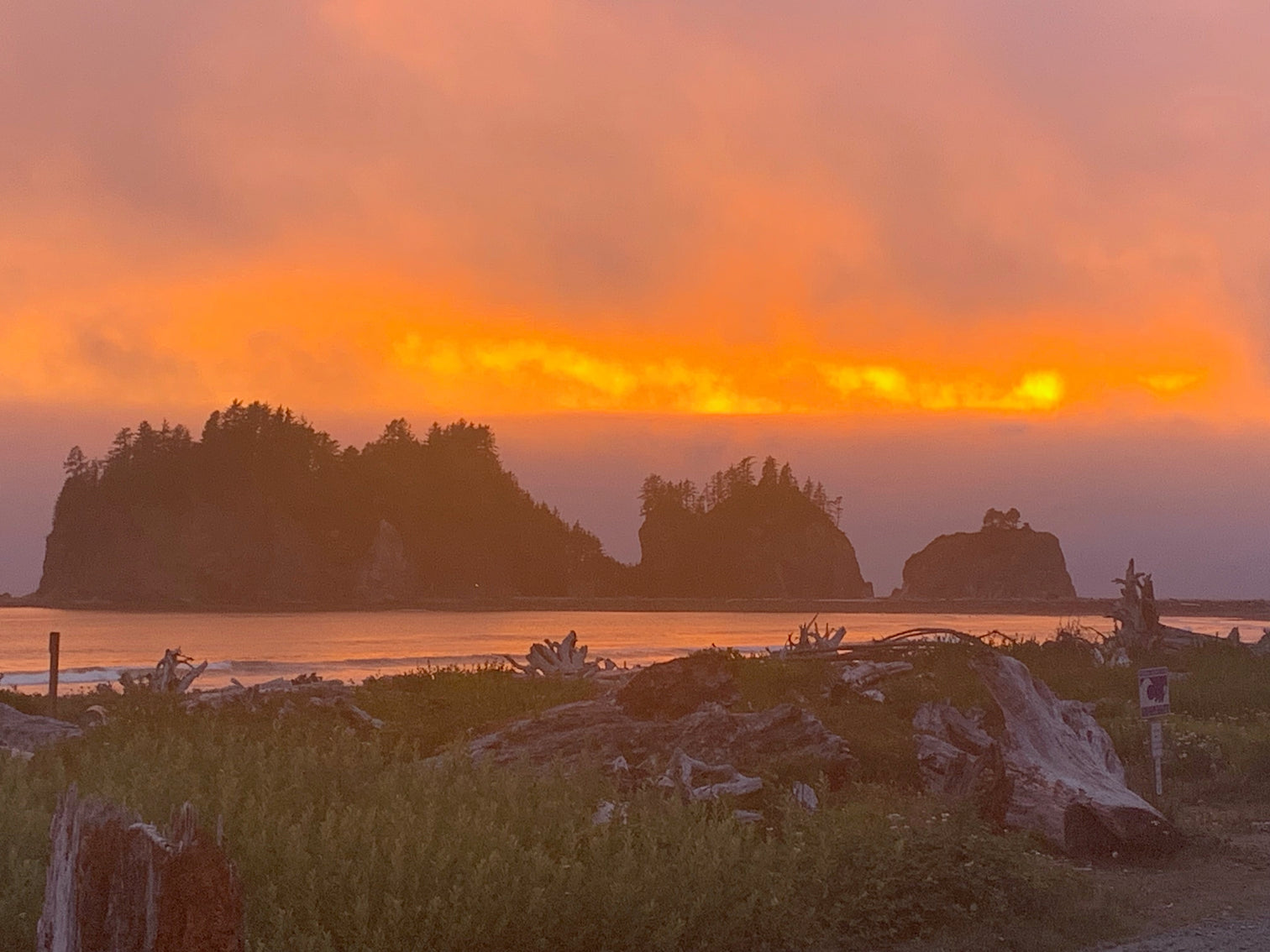 Panos and I left early Friday for a long weekend on the Olympic Peninsula. 
We stopped for a quick walk at the Elwha River, between Port Angeles and Lake Crescent. The Elwha Dam was removed more than 10 years ago. Here's a fascinating time lapse video of the removal process.
Our destination was La Push, west of Forks. The coast was characteristically misty when we arrived. 
Our cabin overlooked First Beach. At the north end, there is a promontory and a little island that is one of the beach's most characteristic features.
Here is James Island three different times of day:
Barely visible in the mist...
...Normal view...
... and Saturday night's sunset, as seen from our porch! Almost looks like a wildfire, but it's all light and clouds.
This weekend was all about relaxing and doing absolutely nothing as much as possible. But we couldn't resist heading over to the Hoh Rain Forest, in spite of summer crowds on the roads.
One of the things I love so much about the rain forest is just the sense of prolific growth. Everything grows on everything, everything seems to nurture everything. 
Like this little tree springing up on the moss-covered broken base of a dead tree:
Or all these trees growing on the edge of the root system of a fallen giant:
Or this classic "nurse log" with its very grown up babies:
And of course, mossy everything just a lot of fun to look at:
Back at the beach on Sunday morning, there were lots of pelicans enjoying themselves....
 All in all, I came back very rested. Nothing like relaxed walks and drinking in the beauty of the Olympic Peninsula.