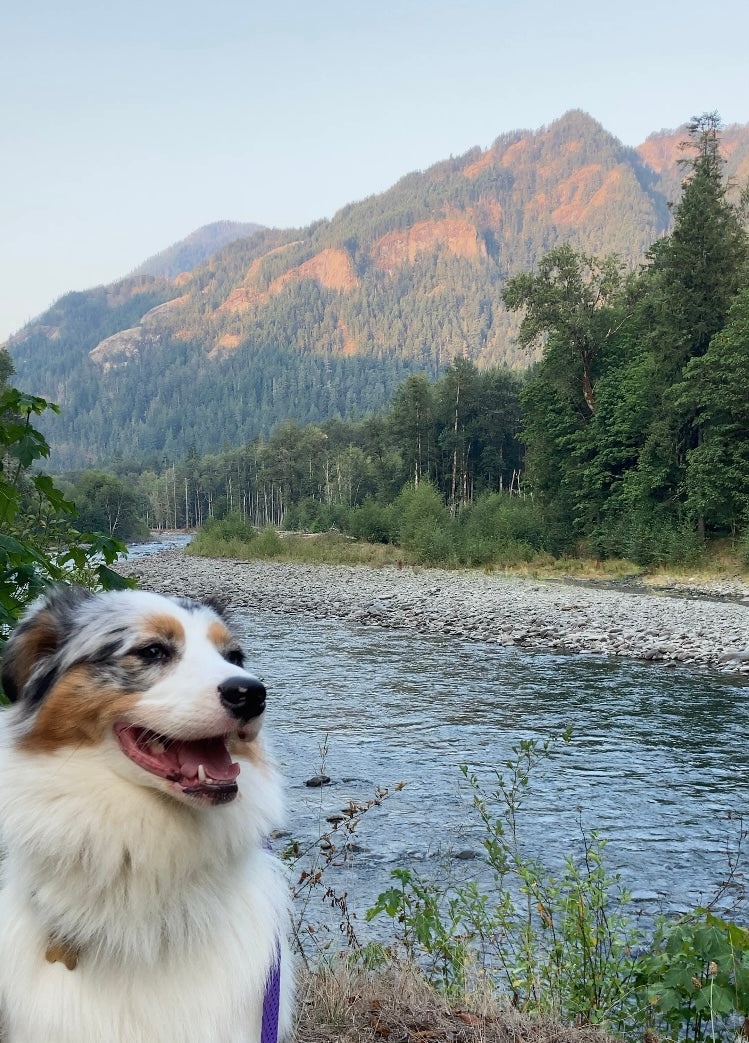 We hit the road this weekend to visit the dog-friendly parts of Olympic National Park. 
Leaving Friday night after work, we car camped on a tiny stretch of the Elwha River within National Forest land. This was the sunrise view a few hundred feet from our campsite for the night.
We drove a couple minutes into Olympic National Park and hiked the old paved road as far as we could. The road washed out in 2015 or so, and the overland trail doesn't allow dogs. 
We drove out about 20 minutes to the Spruce Railroad Trailhead on Lake Crescent. We arrived about 10:00 and did an 8 mile out and back along the north shore of the lake. Aura didn't do too well with cyclists coming from behind, and by the time we were getting back to the main swimming area around 1, the place was crawling! It was about 85 afterall. 
We ate lunch at the Log Cabin Resort a few minutes back down the road. The skies were a bit smoky. 
We drove about 90 minutes through Forks to the coast. The minute the highway approached the coast, we were hit with a huge wall of fog! We stopped at Ruby Beach, my favorite beach on the coast (see sunset blog post from 2021), but it wasn't anything like the weather on Lake Crescent. 
Further down the road in Kalaloch we found a few sunbreaks. We drove above the fog into a dispersed camping spot I'd read about in the National Forest. 
In the morning, we made a quick stop at the Kalaloch campground to see the Tree of Life
On our way back home along the southern portion of highway 101, we stopped on Lake Quinault for a secluded hike in the forest with some truly gigantic trees (ferns for scale)
This was the fallen log separated from the stump above. It was maybe four feet tall/across. 
We passed the beautiful Lodge and saw the world's largest Sitka Spruce before heading home!