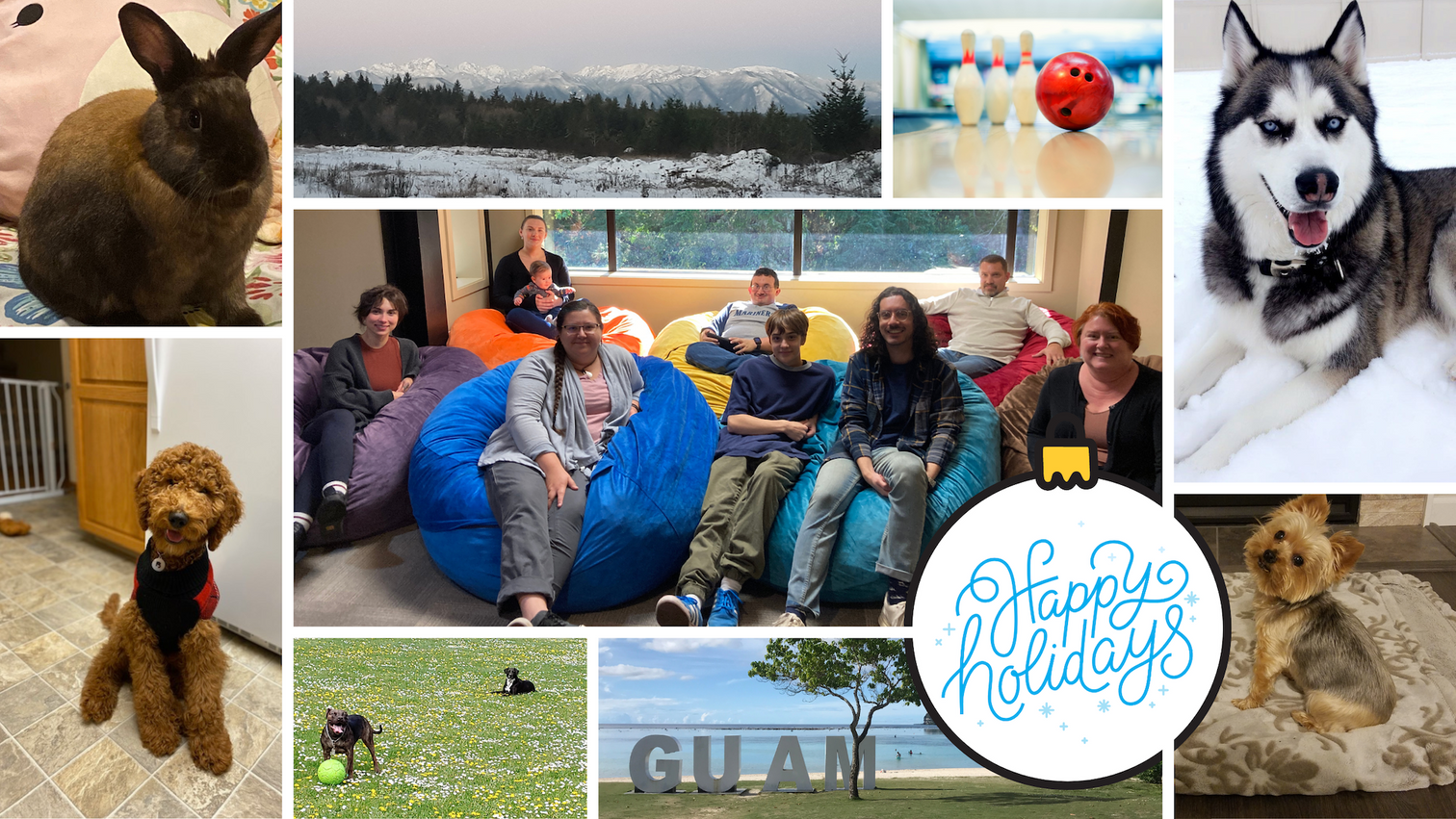 Happy Holidays from all of us at the Dry Eye Shop!
From Hanukkah to the Winter Solstice to Christmas to Boxing Day to Kwanzaa to New Year's.
Whatever the holidays mean to you, we wish you peace, and we thank you for your support this year. 
A message from Aidan 
It's been a year of ups and downs, with some team members moving on and new staff joining. 
We've had an incredibly dynamic week after our second snowstorm of the year (something that simply upends everything in our normally temperate part of the country).
On Friday, we made the decision not to ship packages until noon, as previously planned, for the safety of our staff.
Gary has helped us make decisions about opening and closing based on road conditions and has done everything we've needed of him and more. E, Brenda, and David have kept up with the shipping and packaging volume and made decisions to keep themselves safe at the same time. They do so much on a daily basis that I'll never even know about in the name of serving our customers well. Ally has been snowed in and under the weather for her first week "on her own" taking calls and answering emails. Joslynn's been available when I need her, and even joins meetings with her toothing baby, Lochlainn, on her lap (not without me offering to reschedule, of course!) Rebecca's been flexible and communicative as I've been snowed in for three days straight! I've been filling in gaps wherever needed, but I'm grateful to work with a team that's been supporting me just as much as I've been supporting them. We also recently said farewell to two stellar employees, Heather and Valcorie, who added so much for the time they were here. 
At the end of the day, my mission is for us to do right by everyone we come in contact with. 
Even when things don't go exactly as planned (which seems to be the case lately), I come to work every day knowing that we're all doing our best. It's a gift to do this with such a special team and to know that we're doing good in the world for a really special group of customers. 
We hope we're on the right track, and we always welcome feedback when you're inspired to share. 
Personally, I'm looking forward to some time off to recuperate this weekend. If the holidays are hard for you, please don't hesitate to reach out to us through the Dry Eye Foundation. 
We'll be celebrating some of our milestones this year at our holiday party on the 29th. For a quick lookback, check out our Company Blog. 
Happy holidays everyone, 
Aidan
Vice President