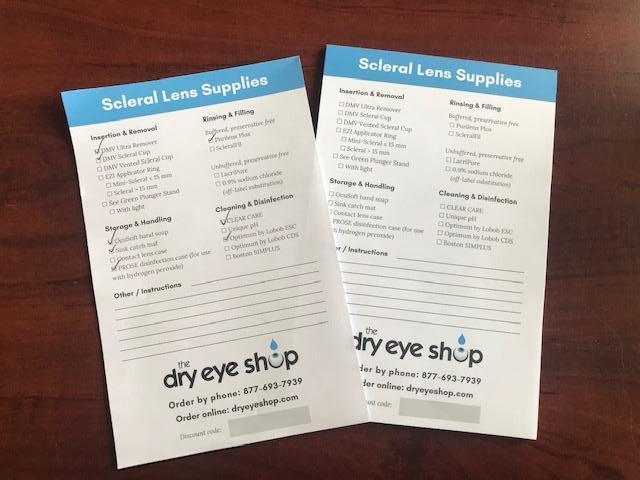 Scleral lens supply pads
Practical tool for your scleral lens practice!
Help your patients identify, locate and purchase the correct items!
25 sheets per pad
Detailed list of plungers, salines, solutions and other items
Order by phone, email or online
Why?
Here are some examples of real-life situations we encounter regularly at the Dry Eye Shop that contributed to the idea for these "prescription pads":
A patient is given some saline vials to get started with their new lenses. When they run out, they go to the drugstore and can't find them. The pharmacist doesn't even know what they're talking about.
A patient is given a sample of a lens cleaning solution. When they run out, they can't find it at their drugstore. They ask for something similar and, without realizing it, they end up purchasing a contact lens solution that is not compatible with the Hydra PEG coating on their lens and strips it off.
A patient is told to purchase an EZI lens applicator ring. They accidentally purchase the wrong size and have to go to some trouble and cost to replace it.
A patient is told to purchase a DMV scleral cup and cut off the end. They don't realize that you can purchase them ready-made.
A patient is told to purchase preservative free salines, but not given any product name. They are bewildered by the choices. 
One stop. Full service.
For most scleral lens users, none of their supplies can be purchased at a local drugstore. Finding everything they need, finding reputable online suppliers, and making sure they don't run out of anything is a lot of work. We try to make it easier for patients:
Everything in one place. Anything we don't have, we'll help your patients find.
Product shortages? We keep customers informed, and help them with substitutions.
Full service by phone, email, text and chat!
Friendly and caring staff! 
Order your scleral lens supply prescription pads today!
Call 877-693-7939, email us or order online.