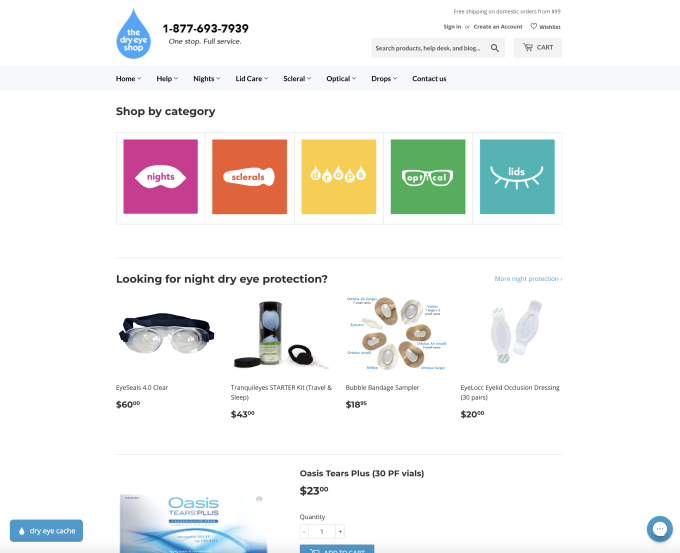 As Rebecca mentioned in her utterly delightful ode to databases last week, The Dry Eye Company recently completed a massive migration from one software system to a bright, shiny, new one:




Look at how bright the new dryeyeshop.com is! How shiny!


Let me repeat; this was a massive undertaking. In the course of around a month and a half, our band of eight learned how to use new software tools, set up our catalog of nearly 200 different products using said new software tools, built an entirely new online storefront, and imported thousands and thousands of customer records and order histories.

To summarize: 'Twas a challenge.

Or, put another way after my Google search of "funny quotes about challenges," in the words of the poet T.S. Eliot, "If you aren't in over your head, how do you know how tall you are?" This is perhaps not quite as funny to our readers as it is to the members of our team, who somehow balance being in way over our collective heads with doing amazing work on a daily basis.

In the end, the great migration came together. I asked the team to share a couple of their memorable moments from the process.

Lindy: "Waiting (I think actually holding my breath) after the new site launch to see the first order come in through the new system. Rebecca texted me, 'WE GOT ONE!', I rushed to my computer, and it's possible a happy dance may have happened."

Rebecca: "That moment when I found our customer service email had been down for 6 days after the launch and we were so preoccupied we never noticed.

I'm over it now. Honest!"

Having emphasized (and, really, re-emphasized) what was involved in this project, what we've gained is pretty significant. As I mentioned, the look and feel of the online shop is all new, and just makes it so much easier to use. We have wishlists now! A brand new loyalty point system! A subscription management system that allows users to customize orders to their hearts' desires. And, after some finagling, what should be a better and cheaper shipping experience all around.

In the midst of all this new, new, newness, we know that some people might have some questions about how to use the new store and such things, so please don't hesitate to reach out. I know that whoever answers the phone will do their very best (and probably an extra 10% on top of that) to help you out. We'd really love any feedback you have about how the new system is working for you. Fixing any lingering problems, snags or complexities will always be top priorities for us. We are very easily contacted in many, many ways. Leave a comment here, or take a hop and a skip over yonder for information about calling, emailing, or online chatting (that'll be the blue button in the bottom right of your screen).