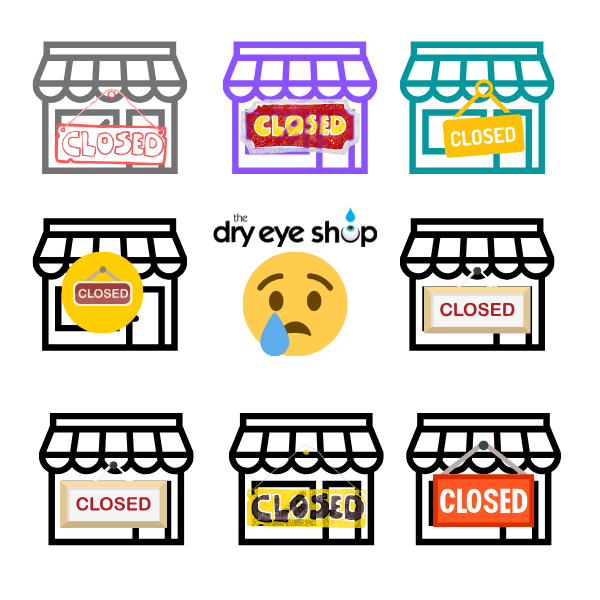 The Dry Eye Shop lives in a busy little business park in Poulsbo, Washington. 
There are three buildings. We're the first door in Building 2. The other businesses are everything you'd expect to see in a little American business park. 
There's the little church next door, for example. I get the benefit of a rousing sermon through the wall if I work on Sunday mornings. There's the tattoo parlor in Building 3. I've always meant to get my first tattoo there, but somehow never got around to it. (Now I worry it may be too late.)
The "anchor" businesses are a large, popular Kitsap Crossfit center in Building 1, and Kimco's Plumbing that has been around forever. In fact, once upon a time they occupied the entirety of Building 3. The Crossfitters and the plumbing guys are a great comfort because they're there very early in the morning like me. When we first moved in here, though, it took a little getting used to having my floor shake just because of Crossfit going on in the next building.
Then there's DME Auto tucked away in the back - a godsend for all the times I've had a flat tire or dead battery! And a chiropractor right next to Crossfit! And Hot Yoga. And a dry cleaners. And a flooring place. We all like to gripe about how they hog the dumpster with their construction debris. And a house cleaning service who just occupy a little office and several spots for their company cars to rest nights and weekends.
One by one, nearly everyone has had to shut down and go home over the past few weeks
Crossfit was the first, I think. I chatted with the owner recently. She was very upbeat. They have switched to all video classes temporarily and they have strong community support. She must have a great deal to contend with, but she has a great attitude to weather it with.
Plumbing, of course, is essential. However, their business is entirely new construction, and after the rules were redefined and clarified last Wednesday, they've mostly shut down.
Today, while unchaining myself from my desk briefly to get some fresh air, I stopped by  the dry cleaners and talked to the owner, Sergio, whom I first met in 2015 when we moved in to this business park. He has worked 14-16 hour days for seven years paying off all the equipment for his plant and the two stores here and one county south of us. This was going to be the year he and his wife agreed they would be able to take it a little easier at last. 
Needless to say the bottom completely fell out of his revenue. No one needs their clothes dry-cleaned when they're not going to work. He has many customers that really love him and he was teary as he described one of them bringing him clean clothes to re-clean. But he's that close to giving up and shutting it all down and trying to get a job. Even if he tapped the SBA emergency loans, he worries he can't repay loans without revenue.
I tried to encourage him with ideas of working up more laundry business in the short term, maybe some email marketing, and most of all making sure there's a prominent sign so people actually know he's open. I mentioned it to Tori and she offered to deliver for them. But he knows his own business's needs, and it's so hard for very small business owners to visualize making it through this when they don't know when the customers will start coming back.
We're the only business in the entire complex that has any semblance of normality right now. Not that we are normal by a long shot - it's either just me, or me and Tori here. But... everybody in the business still has a job, and we're actually very busy. It's hard not to feel something of survivor's guilt, as a business owner.
Being still alive in a row of shut down businesses is eerie, it's uncomfortable, and most of all it's just so very sad. 
I think of all the times I silently griped at the cross-fitters for hogging all the parking.
I take it all back.
Because I can no longer bear looking at the empty parking lot.
I can't wait to see the other side of this and have my neighbors back.