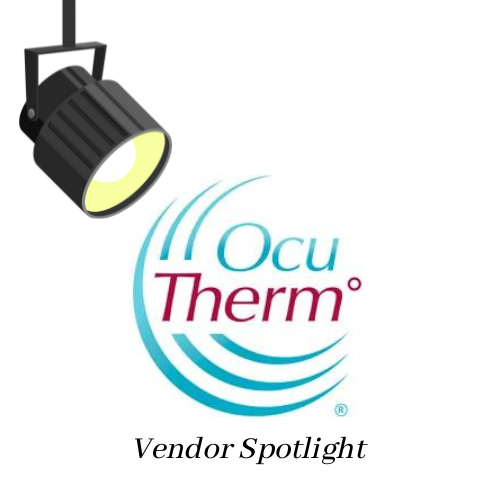 Who is Advanced Thermal Therapeutics?
And how did we get to know them?
Advanced Thermal Therapeutics is a small company that makes a patented high-end moist heat treatment for eyelids.
Their products were invented by Dr. Seth Biser, an ophthalmologist practicing in New York.
Dr. Biser first reached out to me years ago - in fact, two or three computers ago, so I can't even look up when we first emailed, but I think it might have been as much as 10 years ago. At the time, he was working on an innovative product and was interested in the possibility of selling it at the Dry Eye Shop. - It's too long ago to remember quite what happened at the time, but one or the other of us just stopped following up for some reason. 
Then, back in 2020, he reached out again, and we tried again.
This time there was a product ready for me to try out. I did so, and fell in love.
It wasn't just that I liked the product. Though I did.
Rather, what won me over was the conviction that behind this product was a quality of listening to patients and a quality of keen attention to details - details which mattered to me personally and which I wasn't seeing enough attention to in industry.
Long story short, in the latter half of 2020, we added Ocutherm products to the site. 
What is OcuTherm?
In brief: OcuTherm is a microwavable moist warm compress system comprising a gel pack, a thermal cover, hygiene sheets and an eyelid solution spray.  You place a sheet on the gel pack, mist it with the lid solution, microwave it, massage it, and lie back and enjoy it.
It is not the purpose of this blog post to get deep into the product details, so if you're interested in knowing more about it, I encourage you to read my full description, which I wrote back in September 2020:
Suffice to say, this is a luxury warm compress that does an absolutely outstanding job of maximizing conformity with eyelids, comfort, and treatment length.
What attracted me to Ocutherm?
It wasn't the fact that the product is "ophthalmologist-invented". 
Rather, it was all about the particular ophthalmologist who invented it, what he's like, and his approach to product design.
If you'll forgive a mini-rant, honestly, the dry eye world is absolutely awash in doctor-driven products for dry eye and MGD - that is, products which feature prominently on the label the fact that they were invented, created, designed, etc by an eye doctor (or specifically an ophthalmologist).
Nine times out of ten, it's just a private-labeled version of a very common nutraceutical or microwavable compress. Not that there's anything wrong with that. But actual innovation isn't actually that common. 
Dr. Biser
Dr. Biser is distinctly an innovator, and he absolutely nerds out on the sensory experience part of warm compresses. In my conversations with him, I've always had that comforting feeling of someone who really "gets it". 
Even more important, Dr. Biser listened and valued my feedback on things. He even made updates to the instructions/labeling in response. I always feel like this is someone who listens, cares and will always have a well-reasoned response. Thoughtful human, thoughtful doctor, thoughtful product developer.
He's also not a businessman. And I mean that in the most complimentary sense possible. When someone's genuinely passionate about an idea, their authenticity comes across loud and clear in every detail. 
Full service
Another feature that always makes a company or sole proprietor stand out is when they are highly responsive to customer needs. Warranty support? Non-routine questions? They are always there for us and our customers.
My wishlist for Advanced Thermal Therapeutics
It's kind of interesting... we have many vendors that I want things from. New products, better products, more consistent product availability, more packaging options and so on. 
But we also have vendors for whom I wish WE could do more.
Advanced Thermal Therapeutics falls distinctly into that class. Every time I stumble across OcuTherm on our site, I feel rather guilty for not doing more to raise awareness about it, knowing how challenging it is for anyone to make a commercial success of a high-end product produced on a small scale. 
About this blog series
A key part of what the Dry Eye Shop does is to gather together a wide variety of dry eye and scleral lens products and wrap them up in information and practical tips to help you understand them from the patient's perspective.
We purchase from suppliers that range from sole proprietorships to major pharmaceutical companies. Some of them are household names, and some you have almost certainly never heard of. Whether small, medium or large, we value them greatly for everything that they bring to the table that helps us manage the daily impact of ocular surface diseases, ocular surface pain and complex corneal diseases more broadly.

We appreciate our vendors of all sizes and types and want to tell you more about them! This year, every week or so I'll be sharing about one of these companies - who they are, how and why (and what) we started purchasing from them and when, and what they mean to us.