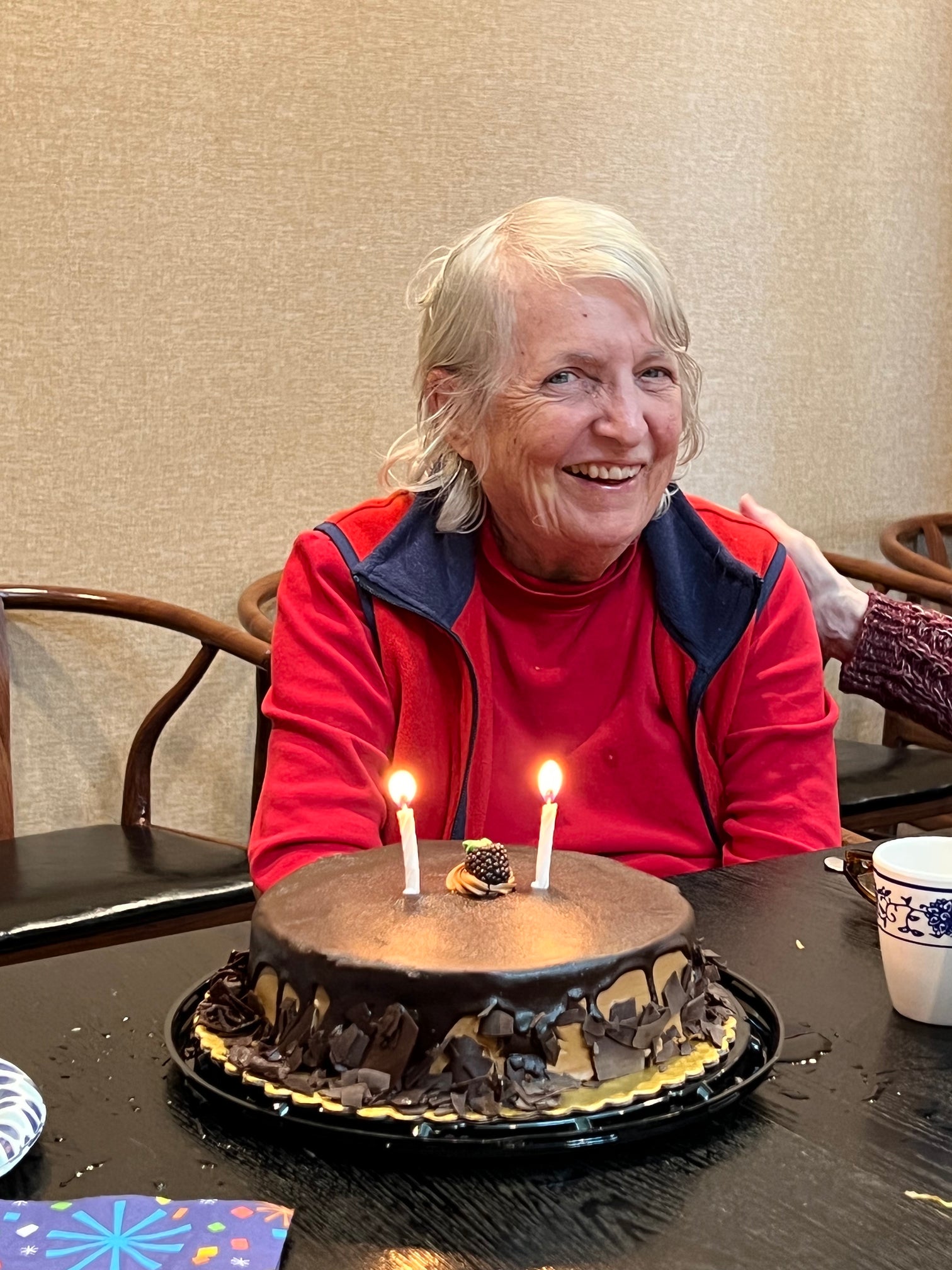 Rosalyn (Roz) Owen, 1940-2022
My friend Roz passed away peacefully last Saturday after a brief hospitalization. 
Roz was an inveterate cheerleader, supporter and encourager. Everything about the Dry Eye Shop and the Dry Eye Foundation interested her and she was always sharing ideas or trying to devise ways to help. 
At our old office in town, Roz had a desk for some time when space permitted. She kept me company, cheered me on harder days, and always found out favorite treats and snuck them in. 
Roz was forever thinking of ways to encourage everyone. I remember a year when she bought Christmas gifts for everyone on staff. She was an avid participant in our periodic Tuesday afternoon "Dry Eye Happy Hour" brainstorming sessions, usually accompanied by food & beverages. (The Dry Eye Foundation eventually borrowed that term for its Covid-era zoom discussion panels.)
Our current office (where we moved in June 2020) is unfortunately not as accessible as we could wish, and with Roz' mobility challenges in recent years she wasn't able to manage the stairs. But that didn't stop her from bringing fruit plates and other goodies to the office for the team. She would leave them on our shipping rack downstairs and try to sneak away before I could catch and thank her. 
Roz spent a lifetime in nonprofit work, including 28 years as a senior program office for a large private family foundation and, in retirement, many years serving on grant review committees in Kitsap County.
In 2018, Roz became a founding member of the Dry Eye Foundation, teaming up with Aidan and me, and served as our first treasurer. She brought a wealth of expertise.
Roz was a loyal, generous, giving friend.
She and I go back about 15 years. We have a special bond from having rescued each other at various times amid our various life challenges, and that bond has always meant so much more than ebbs and flows of a relationship between people with sometimes wildly different views on the world around them.
Roz and I were housemates for some years when I was running the Dry Eye Shop from home, so she's seen it grow and change plenty over the years! I remember how excited she was to see our new much larger premises when we moved. - Later (2016) her son Brent joined the team and was in charge of shipping for four years. (See Dry Eye Shop Hall of Fame.)
Roz was often present while my family and I were starting to 'homestead' our little property. Some of my most characteristic memories are Roz bringing food while we worked on drainage or laid the footings for our eventual tinyhome. Roz introduced Chaidie to our local children's musical theatre, leading to a few years of much shared fun amongst the three of us. Indefatigable when it came to mentoring and helping nonprofits, she also served the theatre faithfully for years.
Lots of memories, lots and lots of laughter, and a special, generous soul to always remember. I'm grateful to have had Roz in my life.