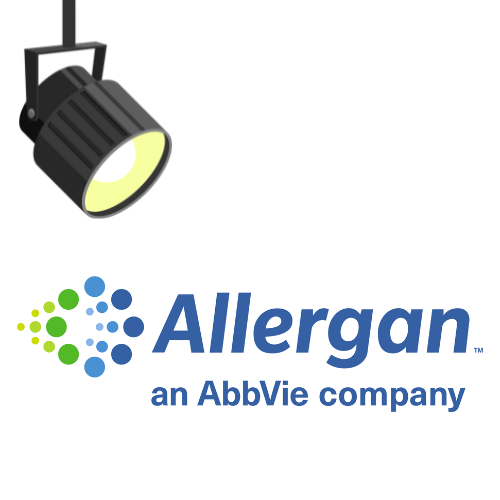 Allergan, dry eye, and scleral lenses
OTC lubricant drops
Most people with dry eye are probably well aware of the Refresh brand of eye drops... they are one of the very most prominent brands, occupying quite a bit of shelf space at the drugstore and online. Or, you may have received samples of one of their products from your eye doctor.
However, many people don't know how many different individual products, with different active ingredients (or different combinations), are actually collected under this brand. See recent blog post for a little rundown that compares them. 
Rx drops
In addition to Refresh brand, you're surely aware of Restasis (cyclosporine 0.05%) which was the first, and for a long time the only, FDA approved dry eye drug. (Today, thankfully, there are more choices, and by the end of 2023 there will be still more - check out DryEyeZone's drug list and pipeline page.) And while this blog series is about appreciating our vendors, I still think it's appropriate to acknowledge here the controversy surrounding the business methods (involving patent transfers to a Native American tribe) which were used to keep their exclusive on the cyclosporine dry eye drug market going as long as possible. 
The dry eye device that was
Do you remember TrueTear? That was Allergan's neurostimulator device (sold by prescription only) for stimulating tears. It was available from about 2018 to 2020, then discontinued after Abbvie acquired Allergan. One of the specialty uses that evolved for this device was helping people with neuropathic corneal pain.
For those of you who are familiar with Tyrvaya, the new nasal spray for dry eye, it was looked forward to for a long time as a sort-of successor to TrueTear. A conceptually similar item to TrueTear currently in circulation is the iTear 100 device, an external stimulator used on the side of the nose.
Scleral lenses
Wait... since when does Allergan make scleral lens supplies?
They don't.
But the road to scleral lenses has always been paved with off-label usages, and Refresh Celluvisc is very well known in the scleral lens patient community as a thick preservative free drop that is often used as a "saline supplement" for some scleral lens users. See blog post "The Celluvisc hack" for more information.
Botox
I almost forgot this one. Allergan's Botox has been used for quite a long time to help people manage - among other things - blepharospasm and some of the other exposure-related dry eye challenges caused by eyelid malposition or malfunction.
The Ointment Crisis
What happened when Refresh PM was out of production
Raise your hand if you remember this particular chapter of dry eye history! 
Refresh PM, the night time ointment market leader, went out of production for quite a long period in 2018-2019. As always when these things happen, it became more and more scarce until people were paying fabulous sums on Amazon and eBay. And because it was not available, Refresh PM users necessarily turned to the alternatives - from name brands such as Systane, Genteal and Soothe to generics from Walmart, Walgreens and Target.
The impact on the dry eye world was similar to the impact of Alcon's 2015 discontinuation of Unisol 4 on the scleral lens world - if not bigger. We were constantly hearing from panicked patients who had used Refresh PM for years, and confused and worried patients whose doctors had just prescribed it yet it was nowhere to be found. We fielded calls and emails and texts, we blogged, and we analyzed and compared the various name brand and generic ointments that were available. To try to help get the word out, I even went on the radio with Robin Young at NPR who had showed a keen interest in the issue. I credit Allergan with getting in touch to fill us in on more details of the Refresh PM situation and give us realistic estimates of when it might be resolved.
Then - disaster struck.
In July 2019, Altaire Pharmaceuticals, a contract manufacturer who had been making generic ointments, got into deep FDA trouble and recalled more than 100 drops and ointments - including the Walmart, Walgreens and CVS generics. 
Thankfully, Allergan succeeded in bringing Refresh PM back to the market almost at the same time. However, it had been gone so long that getting it back into drugstores quickly proved unexpectedly challenging. I will always be grateful for how Allergan went out of their way to get the Dry Eye Shop a large direct shipment of product as early as possible so that we could get it out quickly to the people who needed it the most. 
Sadly, Altaire never got back up and running, so it was still a very long time before the ointment market got anywhere near back to normal. These OTC product shortages are very hard on the dry eye world.
What I appreciate about Allergan
OSDI - The Ocular Surface Disease Index
Allergan holds the copyright to OSDI, which is my favorite symptom survey for ocular surface disease / ocular surface pain. It's a terrific tool to quantify the life impact of your symptoms and also to periodically measure your progress.
I feel that a very important practical role of OSDI is to help us communicate our needs more effectively to our doctors. Even with empathetic doctors, sometimes no description of symptoms can be quite so articulate as a symptom score from a scientifically validated survey instrument.
And that's what OSDI is! OSDI has been used in a great many clinical trials as a way to measure whether people's symptoms improve. It dates way back to the Restasis clinical trials in the late 1990s.
Several years ago, before the Dry Eye Foundation was incorporated - at a time when the Dry Eye Zone still belonged to the Dry Eye Company (that's the shop) - we reached out to ask Allergan to let us reproduce OSDI online, and thankfully they agreed. Click here to score yourself on OSDI today!
p.s. There is a smartphone app for OSDI too! Search "OSDI dry eye" in your app store.
Accelerating the MDPF bottle trend
Allergan was the first mega-pharmaceutical company in the US to adopt a multi-dose preservative-free (MDPF) bottle for one of their over-the-counter eye drops. They combined the bottle rollout with a new product rollout: their first (and only, to date) tear with sodium hyaluronate, Refresh Relieva. 
Innovative smaller companies such as Oasis had been using MDPF bottles for years. I had been waiting anxiously for one of the biggest companies to pick up on this trend and set an example for their peers. It worked - since then, we've seen the emergence of Systane Hydration and BioTrue Hydration, both HA drops in MDPF bottles.
Insider note: Did you know that Refresh Relieva was originally called Refresh Repair? It was actually distributed under that name for a brief period of time. With, perhaps, some gentle encouragement from the FDA they re-branded to a name that is more in keeping with symptom relief.
Large preservative-free portfolio
Allergan definitely "leads the pack" on the preservative-free front - though really only if we define "the pack" as the biggest players (Allergan, Alcon, Bausch & Lomb, Johnson & Johnson). It's important to acknowledge the smaller innovators who get there faster, like Scope Ophthalmics, whose entire portfolio is preservative-free. 
But, give Allergan their due, they have NINE preservative-free lubricants for dry eye.
Responsible manufacturer
If you follow the advocacy work I do through the Dry Eye Foundation, you may be aware that DEF has serious concerns about the rising tide of ignorant and/or unscrupulous manufacturers who not only put us at risk but succeed in deceiving our doctors. - In the course of that project, I have had cause to study many warning letters from the FDA to manufacturers, and let me tell you, it's not pretty. - Just yesterday we learned of a tragic situation relating to a deeply irresponsible generic eye drop manufacturer. 
Brand names like Allergan are rule-followers who employ armies of compliance specialists to stay that way. I never, ever lose sleep over what might be lurking in a bottle of Refresh or a vial of Restasis.
My wishlist for Allergan
Most of the things I would like Allergan to do are related to multi-dose preservative-free eye drops, because I feel Allergan is uniquely positioned to lead in this area due to the size of their PF portfolio:
Take a much more active (maybe I mean aggressive...) role in patient education about MDPF bottles.
Ditch the green Darth Vader cap.
Fantasyland wish? Maybe: Develop, or buy, a new and better MDPF bottle - and make it arthritis friendly. (Ivizia is making me less and less satisfied with the other bottles.)
My last wishlist item for Allergan is for them to join with other OTC manufacturers and put pressure on the FDA's CDER about their OTC registration software loopholes that are allowing seriously shady industry players to get NDCs and DailyMed listings for eye drops which are not, by any stretch of the imagination, monograph compliant. Likely no one except my own close colleagues will know precisely what I'm talking about here, but... the industry either does, or soon will.
About this blog series
A key part of what the Dry Eye Shop does is to gather together a wide variety of dry eye and scleral lens products and wrap them up in information and practical tips to help you understand them from the patient's perspective.
We purchase from suppliers that range from sole proprietorships to major pharmaceutical companies. Some of them are household names, and some you have almost certainly never heard of. Whether small, medium or large, we value them greatly for everything that they bring to the table that helps us manage the daily impact of ocular surface diseases, ocular surface pain and complex corneal diseases more broadly.